Introducing the PowerSpout Micro Hydro Generator
"Water goes in, power comes out"
Even a small stream can generate consistent, clean, dam free, renewable electricity at a price per Watt lower than solar or wind.
With a decade spent making micro-hydro efficient and affordable, PowerSpout is one of the most reliable, cost-effective generators around. Proven results in the field and great customer feedback give testimony to this claim.
For more information check out www.powerspout.com
For details on site feasibility, system design, installation and pricing contact Graham at Endeavour Electronics Ltd

Xantrex TRUECharge2 Battery Charger
"Reliable and Versatile"
Available in three 12-volt models, they are versatile and robust enough to be used in a wide variety of conditions and locations. Ultra compact design makes this the ideal choice for boat and motorhome owners alike.
• Auto-ranging AC input voltage capability (90-265 volts AC)
• Low electrical interference
• Efficient, power factor corrected multistage charging
• Available in 20, 40 and 60Amp models
• Microprocessor controlled charging customizable for different battery types
• Battery temperature sensor available
For more information and related products see www.xantrex.com
For technical advice and pricing, contact Graham at Endeavour Electronics Ltd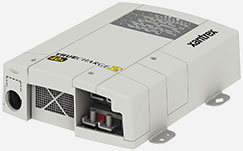 Simrad NSE Marine Navigation Systems
"Best in class; every class"
NSE evolves from the finest brands in the marine electronics industry and offers the ultimate user experience. Elegant yet brutally strong, NSE combines flexibility with the classic reliability our typical experienced users demand in a multi-function display.
• Lighting Fast, Fully Loaded Chartplotter
• Award Winning Echosounder and Radar Technology
• New Simrad NSE Control Interface for Easy Operation
• legant Design, Brutally Strong Simrad Construction
• Complete Flexibility - with "Masterless" Networking
• Brilliant, Low Power LED Display Technology
For more information see www.simrad-yachting.com
For system design and pricing contact Endeavour Electronics Ltd